Price and inventory may vary from online to in store.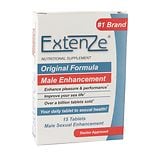 Extenze Original Formula Male Sexual Enhancement Tablets (15 ea)
Sale price is $22 and 99 cents

And Regular price is $24 and 99 cents
Extenze HT Higher Testosterone, Softgels (30 ea)
$3999
$39 and 99 cents
$1.33

/ ea
Not sold in stores
Out of stock online
Extenze
If you have trouble with your stamina or performance in the bedroom, Extenze might help. This male enhancement product can change the way that you engage in sexual activity. Extenze male enhancement products come in two different forms: liquids and capsules. Extenze offers everything from supplements to personal lubricant.
Choosing male enhancement supplements
You might prefer a liquid male enhancement product because you can drink it straight out of the bottle, or you can mix the supplement with another type of liquid. The Extenze capsule form is better for those who have no problem swallowing pills. When taken properly, Extenze can change the way you perform in the bedroom. The manufacturers claim that Extenze products increase stamina, which makes you last longer in bed. You might notice results within a few weeks after you begin taking the Extenze supplements, but some men notice results within the first day of taking Extenze.
Extenze for women
Most men know Extenze as a product for men, but the manufacturers now make products for women. According to manufacturers, this female sexual enhancement product increases arousal and heightens pleasure. The Extenze for Women comes in a capsule or tablet form. Women interested in increasing their sex drive should take the female version only, and women should not use the Extenze products designed for men. The products for men contain a special formula designed for the male body. The products for women use different ingredients that help women experience more pleasure during sex.