Price and inventory may vary from online to in store.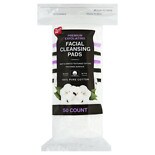 Walgreens Beauty Exfoliating Facial Cleansing Pads (50 ea)
$
4
49
$4 and 49 cents
  $0.09

/ ea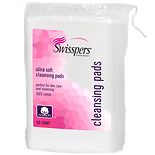 Swisspers Premium Ultra Soft Facial Cleansing Cotton Pads (50 ea)
$
3
49
$3 and 49 cents
  $0.07

/ ea
Desert Essence Natural Tea Oil Original Facial Cleansing Pads (50 ea)
$
7
49
$7 and 49 cents
  $0.37

/ ea
OXY Cleansing Pads Acne Treatment (90 ea)
$
6
29
$6 and 29 cents
  $0.07

/ ea
Facial cleansing pads
Conveniently wipe away makeup, oil and dullness anytime with facial cleansing pads. Keeping your face clean and fresh can be simple with cleansing towelettes here at Walgreens.com, whether you'd like rejuvenating cleansing pads or cleansing pads for acne. If your skin is prone to irritation, there are also face scrubs and cleansers for sensitive skin. Facial skin care brands including Alma], Neutrogena and Clearasil offer facial cleansing pads that can rejuvenate, deeply cleanse acne-prone skin, or resurface.
Cleansing for various skin care needs
The many different types of facial cleansing cloths can help meet a variety of needs. Acne cleansing pads and acne toners can clean deep without clogging pores. If you have sensitive skin, try a gentle facial cleanser that is made without alcohol or fragrances. There are anti-aging cleansing pads formulated to wash away dead cells and revitalize your face for increased radiance. Use makeup remover with cleansing pads to clean your entire face, or eye makeup remover pads and eye washes made specifically to remove mascara, eyeshadow, oil and more from the delicate skin around the eyes.