Price and inventory may vary from online to in store.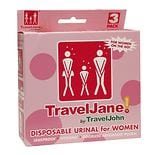 TravelJohn TravelJane Disposable Urinal for Women (3 ea)
$599
$5 and 99 cents
$5.99

/ ea
$499
$4 and 99 cents
$1.66

/ ea
$2399
$23 and 99 cents
$1.33

/ ea
Female urinals
For women who experience difficulties getting out of bed, female urinals can provide a sanitary solution. Either the caregiver or the patient can securely hold these urinals in place. Designed to prevent leaks and spills, female urinals from Drive Medical, Carex and A+ Products can be used from various positions for patient comfort.
Considering available options
In addition to urinals for women, we carry other personal care products for comfort, hygiene and health. Personal cleansing cloths can help you feel clean and fresh. If there are times when using a urinal is difficult or impractical, you can use a bed pan. When, or if, getting out of bed is an option, keeping a bedside toilet close can make caring for your needs easier.
Patient care
Whether you're caring for a loved one or a patient, having the necessary supplies can maximize comfort and care. Walgreens.com carries overbed tables for mealtime and to keep other items close. Bed rails can increase patient safety overnight, as well as provide support for getting up or lying down. These bed assist rails can also have pouches for storing reading materials, remotes or other items.