Price and inventory may vary from online to in store.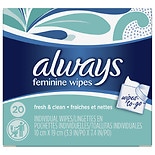 Always Feminine Wipes-to-Go Fresh & Clean (20 ea)
$599
$5 and 99 cents
$0.30

/ ea
Playtex Personal Wipes Light Fresh, Refill Pack (48 ea)
$399
$3 and 99 cents
$0.08

/ ea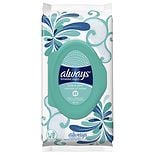 Always Feminine Wipes, Soft Pack Fresh & Clean (32 ea)
$599
$5 and 99 cents
$0.19

/ ea
Feminine Freshness Wipes
Feel clean and refreshed anytime with feminine freshness wipes. These simple feminine wipes can be used to safely clean and eliminate odor. Female fresh wipes can be used any time of the month and are available in different formulas. You can choose fragranced or sensitive skin feminine freshness wipes depending on your needs. Shop our selection of female wipes from Always, Pure Touch and more here at Walgreens.com
An on-the-go or at-home solution
Feminine cleansing wipes come in both packages for home use or in convenient individually wrapped packets to carry in your pocket or purse. Most wipes are flushable for easy, discreet disposal. Some female freshness wipes include natural moisturizers such as vitamin E or aloe vera. You can also look for alcohol-free female cleansing cloths.
Feel clean and fresh
In addition to feminine freshness wipes there is an assortment of feminine hygiene products to help you feel fresh and clean. Feminine washes are cleansing liquids that also clean and eliminate odor-causing bacteria. There are vaginal antifungal treatments to treat most yeast infections and vaginal anti-itch creams to help alleviate discomfort and cleanse. You'll also find a wide assortment of maxi pads, tampons, pantiliners and PMS pain relief solutions to help you get through the month with confidence and comfort.