Price and inventory may vary from online to in store.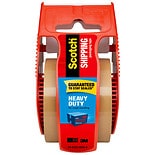 Scotch 2 inch High Performance Packaging Tape (800 in.)
High school backpacks
Carry your books, notebooks and other essentials in a high school backpack. You can choose a color, design and the organization features you like best to keep your schoolwork easy to manage. Find a high school backpack with padded straps for comfort and an easy-access front pocket to get to essentials like keys quickly. Brands Case Logic and Targus offer backpacks to keep you organized and in style.
Personal preference
Depending on your preferences, you can choose a bright red backpack or more subdued black or grey high school backpack. We carry large backpacks with multiple sections to organize documents, laptops, beverages and more, or you could select a school backpack with a slimmer design.
Other bag options
If youre looking for an alternative to a backpack, we carry a selection of bags in different styles for various uses. Browse shoulder or messenger bags that work great for school or work. Computer backpacks and tablets & laptop cases are designed to carry your computer and usually have space for documents and pockets for keys and more. Laptop and notebook sleeves protect your computer from scratches and other damage.