Price and inventory may vary from online to in store.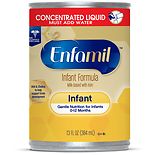 Enfamil Premium Lipil Infant Formula Concentrated Liquid (13 oz.)
Infant formula concentrate
Simplify feeding time with infant formula concentrate. Choose the appropriate size of infant formula concentrate so you don't run out of it at an inopportune time. Some formula concentrates include ingredients to resemble breast milk so your baby receives the important nutrients and vitamins for early development. Baby formula concentrate from Similac is available here at Walgreens.com.
The best formula for your infant
Infant formula concentrate is easy to use which is helpful when you need to get a bottle ready quickly. Follow the directions to add the right amount of water and you're ready to start feeding. Most infant formula includes DHA and ARA for brain and vision development as well as nutrients that support the immune system.
Caring for your baby
In addition to bottles, bottle liners, bottle nipples and other baby feeding essentials we also carry baby skin and hair care. Use an infant washcloth to bathe your baby with a special bar soap or body washes just for babies. Gentle baby shampoo usually avoids irritating ingredients so it wont hurt even if it gets in your baby's eyes. For after the bath, there are baby lotions, diaper rash ointments and powder to keep your infant's skin soft and smooth.