Price and inventory may vary from online to in store.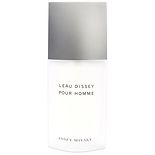 Issey Miyake L'Eau D'Issey Eau De Toilette Spray (2.5 fl oz)
Sale price is $39 and 99 cents

And Regular price is $54 and 99 cents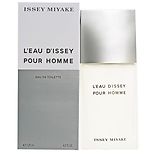 Issey Miyake L'eau D'issey Pour Homme Eau De Toilette Spray for Men (4.2 fl oz)
$
90
99
$90 and 99 cents
  $21.66

/ oz.
Issey Miyake Eau de Toilette Spray (1.6 fl oz)
Sale price is $51 and 19 cents

And Regular price is $64 and 99 cents
Issey Miyake fragrances
The internationally renowned designer Issey Miyake produces fragrances for both women and men. Issey Miyake fragrances are bold, fresh and original, and you can order them for delivery right to you. The company specializes in both men's and women's fragrances offering both colognes and perfumes.
Men's fragrances
The classic Issey Miyake fragrance for men is Issey Mikaye L'Eau D'Issey Homme. It is available as an eau de toilette spray, or as a soothing, cooling aftershave lotion. L'Eau d'Issey Homme combines the time-honored masculine scents of spice and woods for a refreshing, invigorating burst of fragrance. The men's fragrance line by Issey Miyake also includes L'Eau D'Issey Homme Intense, which is a strong, manly fragrance based on sandalwood and tobacco. It is also available in both eau de toilette and aftershave versions. Either fragrance is just right for wearing at any time of the day, for any occasion. Both Issey Miyake fragrances for men are perfect as gifts for the man in your life.
Women's fragrances
L'Eau D'Issey is the flagship Issey Miyake fragrance for women. Available in three different sizes, this eau de toilette spray is a casual fragrance with a familiar, feminine, floral base. A Scent by Issey Miyake is a new and different fragrance that combines the soft tones of lemon verbena, hyacinth and jasmine with the boldness of galbanum and cedar wood. The result is a bold and daring fragrance that you will love wearing yourself or enjoy giving as a gift. A Scent by Issey Miyake is available in two different sizes.