Price and inventory may vary from online to in store.
Sale price is $12 and 99 cents

And Regular price is $14 and 49 cents
Carex Premium Power Seat 20-Inch Wide (1 ea)
Sale price is $202 and 99 cents

And Regular price is $249 and 99 cents
Carex Premium Power Seat 17-Inch Wide (1 ea)
Sale price is $188 and 99 cents

And Regular price is $229 and 99 cents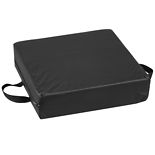 Duro-Med Deluxe Seat Lift Cushion Black Leatherette Black (1 ea)
Sale price is $34 and 99 cents

And Regular price is $39 and 89 cents
Seat Lift Chairs
Seat lift chairs can provide support and make it easier to rise from a sitting position when you have mobility issues. At Walgreens, we offer a selection of seat lift chairs and accessories that go with them. Many of these items are not available in stores. Explore the options available and discover the benefits and features each model of seat lift chair offers.
How Do Lift Chairs Work?
Electric-powered seat lift chairs provide a firm but gentle lift for people who have difficulty rising from a chair. Easy to operate, the lift can be quickly activated with a simple hand control. Seat lift chairs are available with flexibly firm foam cushions that conform to each person's body type for maximum comfort. You can use a lift chair on most chairs and couches. For safety purposes, most models have a sturdy base that won't move or slide.
Portable Lift Chairs
Choose from portable seat lift chair models you can easily take from place to place or use when traveling. Many models come with a zippered case for added protection and easy transport. The cushioned seat of most lift chairs is easy to care for and can be cleaned with mild soap and water. When choosing a seat lift chair, be aware of size and weight limitations. Some models are only designed to support up to 300 pounds of body weight. The seat portion is available in various widths as well. Read the descriptions carefully to see the features each seat chair lift offers.
Cushions for Lift Chairs
Seat lift cushions are designed for added support, height and comfort when sitting in a chair or wheelchair. Some wheelchair seats don't provide optimal support for the lower body. Seat lift chairs help correct this problem by providing a firm foundation for sitting along with added height. The cushions are firm and designed to retain their shape and support even after prolonged use. Seat lift cushions in materials like leatherette are as stylish as they are functional. Don't forget to take one along when traveling. Each cushion is sturdily constructed for long- term use.