Price and inventory may vary from online to in store.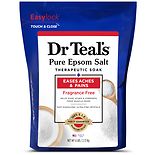 Dr. Teal's Epsom Salt Soaking Solution Magnesium Sulfate USP Unscented (96 oz.)
Soaking solution
Soaking solution products come in different forms for a variety of purposes. Whether you need to soak your contact lenses or your body, there are plenty of solutions available. Walgreens.com carries contact solution from well-known brands like Bausch & Lomb.
Contact lens solution
If you wear contact lenses, you well know that a good contact lens solution will keep your lenses in great condition. This type of soaking solution will disinfect your lenses and remove protein build-up so that your contacts will feel newer for a longer amount of time. Directions suggest that you place your contacts in the soaking solution overnight. Some contact solutions have a higher level of disinfecting strength and an advanced formula for deeper cleaning and conditioning.