Price and inventory may vary from online to in store.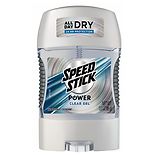 Speed Stick by Mennen Antiperspirant & Deodorant Power Gel Ultimate Sport (3 oz.)
$279
$2 and 79 cents
$0.93

/ oz.
Lady Speed Stick by Mennen 24/ 7 Antiperspirant & Deodorant Fresh Fusion (2.3 oz.)
$299
$2 and 99 cents
$1.30

/ oz.
Speed Stick Gel
Speed Stick Gel antiperspirant deodorant goes on clear and protects against underarm perspiration and odor, so you can look and feel fresh and clean-smelling all day. The cool gel won't leave any visible residue on your clothes, either; you can wear even the darkest clothes with complete confidence.
Freshness that lasts
Speed Stick Gel gives you 24-hour antiperspirant and deodorant performance. The clear gel formula feels refreshing when you put it on, and its clean scent lingers throughout the entire day. Depending on which Speed Stick Gel product you prefer, you can complement your personal fragrance profile by choosing a floral, fresh or masculine scent for your other body products like bar soap, shower gel, perfume or cologne. When you use Speed Stick Gel, you can slip your clothes right on without worrying about embarrassing streaks: the clear gel means you'll never have to worry about white marks where they don't belong.
Odor and wetness protection
Don't forget to apply Speed Stick Gel each morning as part of your daily routine. No matter what's on your busy schedule, you'll be protected from underarm wetness and odor. Your daily morning routine is important, so be sure to choose the right products for your unique body care needs and preferences. Walgreens.com offers a full selection of scented and unscented beauty and bodycare products, including soaps, body washes, intimate cleansers and deodorants, and foot deodorants.