Price and inventory may vary from online to in store.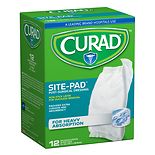 Curad SitePad Surgical Dressings 5 in x 9 in (12 ea)
Surgical site dressings
Take care of your incision with surgical site dressings. These dressings for wounds come in different types that can provide a moist environment for wound healing or act as a bandage that absorbs exudate. Surgical site dressings also come in different sizes for convenience. Brands such as dynarex, Medline and AQUACEL offer surgical wound dressings here at Walgreens.com.
Find the type you need
Find your doctor-recommended surgical site dressing to cover and protect your wound while it heals. If you have a draining wound, you may need a hydrofiber or alginate dressing to help absorb and retain fluid.Hydrocolloidal and hydrogel dressings can keep your skin hydrated and keep the wound moist to advance healing. You can also find surgical sponges and hydrogel to help care for your wound.
More products for patient care
In addition to surgical site dressings, we also carry other wound care products such as no rinse shampoos and conditioners . Personal cleansing cloths are especially handy when someone is restricted to bed or has limited mobility. There are also skin repair creams and skin barriers to help protect and hydrate delicate skin.