Price and inventory may vary from online to in store.
Tommy Eau de Toilette Spray (1.7 oz.)
Sale price is $36 and 99 cents

And Regular price is $46 and 99 cents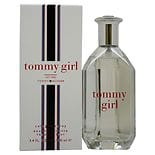 TOMMY HILFIGER Tommy Girl Cologne EDT Spray (3.4 oz.)
Sale price is $39 and 99 cents

And Regular price is $59 and 99 cents
Tommy Hilfiger colognes
Smell your absolute best with the use of Tommy Hilfiger colognes. The Tommy Hilfiger collection offers fragrances for men and women both, giving the user a fragrance that goes along well with the look that made the Tommy Hilfiger fashion line famous. The brand not only creates men's cologne but women's perfumes as well for fashion conscious customers.
Spray for men
The Tommy Hilfiger line doesn't just include clothing. The Hilfiger line includes a variety of fragrances for men with a basic cologne spray offered as well as an eau de cologne spray. A light mist of the Tommy Hilfiger cologne lasts hours, creating a lingering scent that pleases those around the user. Hilfiger Sprays come in a variety of sizes to ensure that you buy exactly the amount needed, and each spray has a unique scent of its own that's slightly different once worn due to differences in individual body chemistry.
Tommy Girl cologne spray
Tommy Hilfiger colognes aren't just for men. The Tommy Girl line of cologne sprays provides a pleasing scent that brings the quality of Tommy Hilfiger colognes to women. Additional fragrances for women include several eau de parfum sprays. As with the men's spray, the Tommy girl line differs in fragrance according to the particular spray or parfum purchased. The scent is further varied by the individual user, as the spray or parfum blends in with the user's natural scent to create a unique fragrance that's all its own. The Tommy Hilfiger colognes for women are also available in a variety of sizes to fit your usage needs.