Price and inventory may vary from online to in store.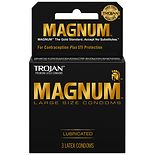 Trojan Magnum Large Size Condoms (3 ea)
2/$1100
or
1/ $699
2 for 11 dollars and 00 cents or 1 for 6 dollars and 99 cents
2/$11.00 or 1/$6.99
$2.33

/ ea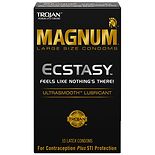 Trojan Magnum Ecstasy Ultrasmooth Lubricant Condoms (10 ea)
$1549
$15 and 49 cents
$1.55

/ ea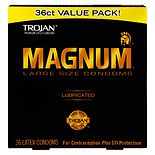 Trojan Magnum Lubricated Latex Condoms Large (36 ea)
$2699
$26 and 99 cents
$0.75

/ ea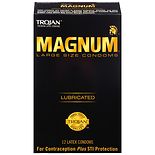 Trojan Magnum Large Size Condoms Large (12 ea)
$1479
$14 and 79 cents
$1.23

/ ea
Trojan Magnum
Protect yourself and your partner with Trojan Magnum condoms. Each condom is tapered to fit snug, yet more comfortable than most standard-sized condoms. For added comfort, Trojan Magnum lubricated latex condoms are pre-lubricated to reduce unpleasant friction. Trojan ultra thin condoms improve sensitivity without sacrificing strength and durability. Trojan Magnum lubricated condoms are available with spermicidal lubricant for added protection against pregnancy and a dual action lubricant that provides a warm, tingling sensation for you and your partner.
Practicing safe sex
Ensure you and your partner remain healthy by practicing safe sex to prevent the spread of sexually transmitted infections or diseases. Wear condoms during each sexual encounter to maximize your protection. Replace damaged condoms immediately, and pay close attention to the expiration date located on the package; latex breaks down over time and becomes brittle. Use condoms in conjunction with other contraceptives to provide added protection against unwanted pregnancies.