Price and inventory may vary from online to in store.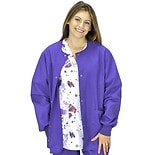 Medline Scrub Jacket Unisex Warm-up with Knit Cuff Regal Purple (1 ea)
Medline Disposable Lightweight Isolation Gown XL (50 ea)
Unisex scrub tops
For many types of medical professionals, unisex scrub tops can be a comfortable and practical option. These scrub tops are made to be durable and withstand ongoing wear. Choose a favorite color and a size that will fit you well. Here at Walgreens.com, you'll find many unisex scrub tops from brands such as Medline Scrubs and American Dawn to suit your active occupation.
Featuring strength and comfort
Our selection of Unisex scrub tops include something for almost anyone. Some are reversible, and most have breast pockets that can come in handy. Many reversible scrub tops are made with double seams or stitches that give them extra strength and durability. Our variety of unisex scrub tops includes those that are made with cotton and polyester blends to keep them both comfortable and less likely to wrinkle.
Other uniform needs
Besides unisex scrub tops, we carry ladies' scrub tops that are cut for a comfortable fit for women. Some of these tops are printed scrub tops with seasonal or themed designs. You can also find your scrub pants here in a color to match your tops, as well as lab coats and scrub jackets.