Price and inventory may vary from online to in store.
Monistat 3 Cream Prefilled Applicator (3 ea)
$
20
99
$20 and 99 cents
  $7.00

/ ea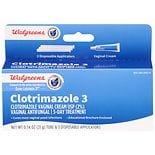 Walgreens Clotrimazole 3 Vaginal Cream 3-Day Antifungal Treatment (1 ea)
$
14
49
$14 and 49 cents
  $4.83

/ ea
Walgreens Miconazole 1 Vaginal Antifungal Combination Pack, Day or Night (1 ea)
Yeast infection cream
An uncomfortable yeast infection demands effective relief. Help alleviate symptoms with a yeast infection cream. After determining that you have an infection with a home yeast infection screening kit, you can use any combination of creams, wipes and tablets for treatment. Here at Walgreens.com, you'll find yeast infection treatments from brands Monistat and Vagisil that can even target and fight the cause of the infection.
Symptom relief and more
If you're experiencing a burning and itching sensation, yeast infection creams and vaginal anti-itch creams can help. You can even freshen and cleanse with feminine wipes that can help cool and soothe. Choose from yeast infection cures that include suppositories and creams to get rid of the infection.
Other feminine care
You can also care for other feminine needs with the variety of options here at Walgreens.com. Wipes, feminine cleansing cloths and freshness washes can help keep you clean and fresh. We also carry many different types of maxi pads, pantiliners and tampons for different days and needs throughout your period. You can help make your period more manageable with PMS relief and menstrual cramp relief.