Price and inventory may vary from online to in store.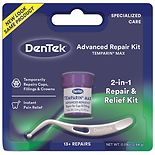 DenTek Temparin Max - Lost Filling & Loose Cap Repair (1 ea)
$529
$5 and 29 cents
$58.78

/ oz.
Dentemp Maximum Strength Custom Repair Lost Fillings & Loose Caps (1 ea)
$499
$4 and 99 cents
$4.99

/ ea
Dental cap repair
If you've lost or damaged a cap, crown or filling, you can help protect your tooth with dental cap repair. You can even eat and brush your teeth more comfortably with these useful temporary fillings until you can get a permanent replacement from your dentist. Dental cap repair from brands DenTek, Dentemp O.S. and more here at Walgreens.com can even help prevent the pain that a lost cap or filling can cause.
Toothache relief
To help soothe pain, browse the toothache relief treatments we carry. Choose from pain relievers such as ibuprofen, acetaminophen and aspirin or a topical oral analgesic that can instantly comfort. There are even toothache kits that include tools for dental cap repair as well as toothache gel. For a convenient and easy to use solution, try a toothache swab that comes with a pre-applied and measured amount of gel to help relieve pain.
Oral care for a healthy mouth
Here at Walgreens.com, you'll also find dental care options to help keep your teeth and mouth healthy. Choose from powered toothbrushes with replaceable heads and classic toothbrushes. You'll have many options for flossing that include power flossers such as water flossers and convenient floss picks to use on the go. Keep your mouth clean and fresh with your choice of toothpaste and mouthwash.