Price and inventory may vary from online to in store.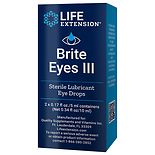 Life Extension Brite Eyes III Vials (.17 oz.)
$2550
$25 and 50 cents
$75.00

/ oz.
Lipotriad Visionary Eye Vitamin & Mineral Supplement with Lutein and Omega-3 Softgels (60 ea)
$2519
$25 and 19 cents
$0.42

/ ea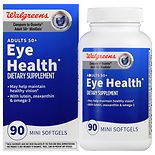 Walgreens Eye Health for Adults 50+, Softgels (90 ea)
$1999
$19 and 99 cents
$0.22

/ ea
No Contact Thermometers
Non-invasive and accurate, no contact thermometers utilize infrared technology. These thermometers are especially useful for taking the temperatures of rooms or objects. You can even use them to take your kids' temperatures without having to disturb or wake them. Choose a no contact thermometer from brands such as Veridian Healthcare and AlcoHawk for a variety of household uses.
Choosing Between Thermometers
Depending on your needs, you can select a no contact thermometer that's best for using on mechanical parts and computers or one that's ideal for body temperature. Some infrared thermometers can change color or sound a quiet alarm in case of fever. There are also forehead thermometers and temple thermometers that measure temperature with a simple touch. Other non-invasive options include ear thermometers. You can choose between reading speeds and levels of accuracy to find one that works best for you or your family.
In Cold and Flu Season
Keep your medicine cabinet stocked with cold and flu medicine so that you can be ready to fight symptoms at any time. We carry different kinds of decongestants, cough expectorants and liquid cough medicine. Many cold medicines for kids are safe to use and have tasty flavors. You can even find help getting a good night's rest with flu relief and ear ache relief. Additional options for better breathing include chest rubs, vaporizers and humidifiers.