Coronavirus: Services, Resources & FAQs | Walgreens
Beginning of the content
Drive-thru COVID-19 testing is available without an appointment
A valid ID is required at the following locations. Bring your insurance card if you have one.
4353 Lake Otis Pkwy., Anchorage, AK
2650 W Glendale Ave, Phoenix, AZ
11800 Artesia Blvd., Artesia, CA
20011 Bollinger Rd., Cupertino, CA
1250 E. Chapman Ave., Fullerton, CA
4331 Antelope Rd., Sacramento, CA
1401 Rhode Island Ave, Washington, DC
833 Forest Pkwy., Forest Park, GA
1520 N School St, Honolulu, HI
1570 E. Fairview Ave., Meridian, ID
709 N. Green Bay Rd., Waukegan, IL
720 W. Chicago Ave., East Chicago, IN
5 Medway Rd., Milford, MA
80 River St., Waltham, MA
122 Cranbrook Rd., Cockeysville, MD
701 Forest Ave., Portland, ME
3445 Terry Rd., Jackson, MS
1150 11th Ave., Helena, MT
2850 Capital Blvd., Raleigh, NC
15090 Idlewild Rd., Stallings, NC
4310 Ames Ave., Omaha, NE
17 Crystal Ave., Derry, NH
3632 Menaul Blvd. NE, Albuquerque, NM
1580 Route 112, Medford, NY
2316 N. Rockwell Ave., Bethany, OK
52 Chester Pike, Darby, PA
3620 W. 41st St., Sioux Falls, SD
9 Susie Wilson Rd, Essex Junction, VT
40 Flowing Springs Way, Charles Town, WV
1501 Dell Range Blvd., Cheyenne, WY
If you live outside of these areas, you may be eligible for testing by appointment. See if you're eligible.
End of the content
Last updated 07/28/2020
Get the latest information on the Coronavirus Disease 2019 (COVID-19), learn how to protect yourself and take advantage of our convenient services.

Visit
CDC.gov
for updates on this rapidly evolving situation



A safer place to shop
Here's how we're making our stores safer for customers and team members.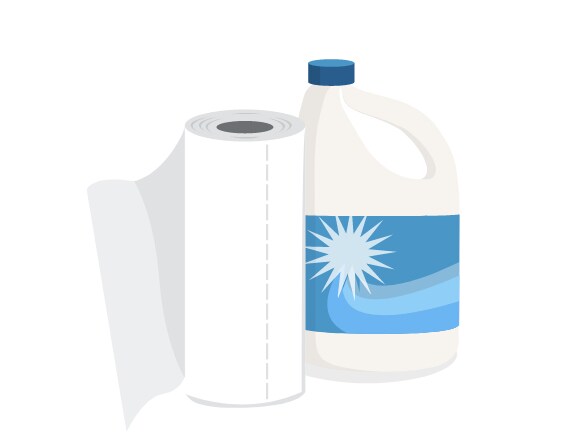 Extra cleaning
We're thoroughly cleaning each night, in addition to periodic daytime cleanings.
Health measures
For everyone's safety, team members are wearing face coverings, and we encourage you to do the same.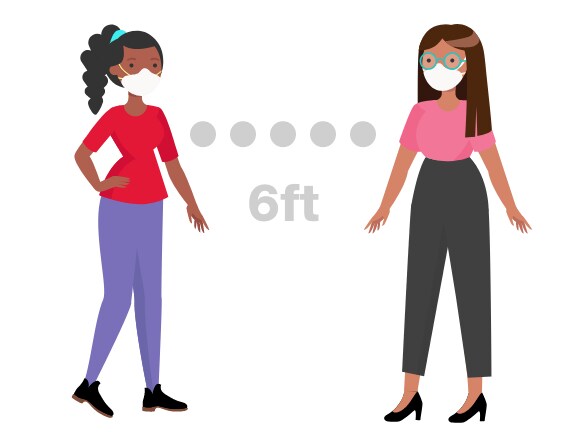 Social distancing
We've added plexiglass shields at checkout and indicators to keep everyone six feet apart.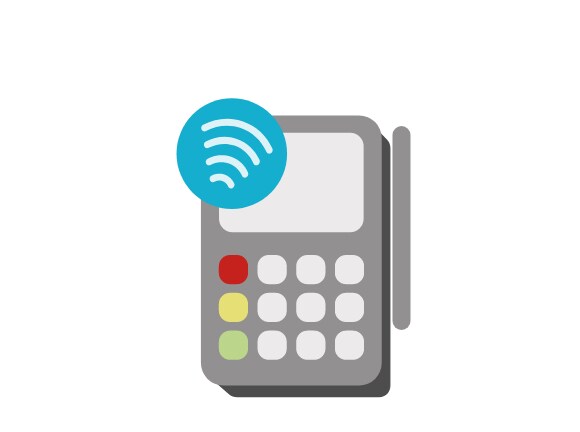 Ask a Pharmacist
Answers to your COVID-19 questions
---
Frequently Asked Questions
What is COVID-19?
The newly identified coronavirus disease (COVID-19) is caused by a virus called SARS-CoV 2. First identified in China in December 2019, COVID-19 has infected more than six million people around the world. While this coronavirus is new, it is not the only coronavirus. Coronaviruses were first identified in the 1960s, commonly infect people and are associated with the common cold.
What are the symptoms of COVID-19?
People with COVID-19 have reported a wide range of symptoms, ranging from mild to severe, that may appear 2–14 days after exposure to the virus:
Cough
Shortness of breath or difficulty breathing
Fever
Chills/repeated shaking with chills
Muscle pain
Headache
Sore throat
New loss of taste or smell
This is not an exhaustive list. Please consult your healthcare provider for other symptoms that are severe or concerning to you.
---
How do I prevent infection?
As there is no vaccine or treatment for COVID-19 at this time, preventing exposure to COVID-19 is your best defense. Everyday practices to help protect you and prevent the spread of viruses include: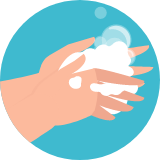 Wash your hands often
Wash your hands well, especially after coughing, sneezing or having any contact with someone who's coughing or sneezing. Use soap and running water, scrub your hands for at least 20 seconds and then rinse and dry your hands thoroughly. When soap and water aren't available, use an alcohol-based hand sanitizer containing at least 60% alcohol.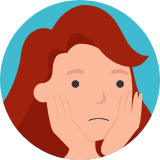 Keep your hands away from your face
Avoid rubbing your eyes or putting your hands to your mouth until you've washed your hands.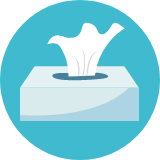 Observe respiratory etiquette
Cover your mouth and nose when coughing or sneezing, throw away used tissues immediately and wash your hands afterwards.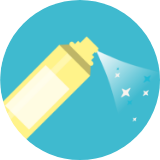 Clean high-touch surfaces
Frequently disinfect surfaces like door handles, light switches and countertops.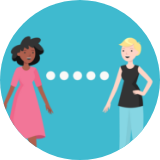 Keep your distance
Avoid close contact with others when outside of your home.
---
What do I do if I feel sick?
If you begin to feel ill, even with mild symptoms, manage them as you would if you had the flu. Stay at home, in a separate room from your family if possible, and avoid public places until you recover. Rest, use fever reducers (if needed) and keep at least six feet away from other people when possible. If you develop a cough and/or have difficulty breathing, call your healthcare provider to discuss your symptoms and travel history, and you'll be advised how to best proceed.
Who is at higher risk for getting COVID-19?
According to the CDC, older adults and people with serious chronic medical conditions, such as heart or lung disease or diabetes, seem to be at higher risk for developing more serious complications from COVID-19. Your healthcare provider can recommend additional steps you may be able to take to protect yourself.
Should people with HIV take extra precautions?
There is not yet specific information about the risk of serious illness from COVID-19 in people with HIV. Until more is known, the U.S. Department of Health and Human Services recommends that those with HIV, especially people with advanced or poorly controlled HIV, take additional caution. This includes keeping influenza and pneumococcal vaccinations up to date, maintaining an adequate supply of antiretroviral therapy (ART) and following all CDC recommendations, including social distancing and regular handwashing.
Do younger, healthy people need to take precautions?
Yes. While most young, healthy people are at lower risk of becoming critically ill, it's still important for those individuals to take precautions to prevent the spread.
What do I do if I've tested positive for COVID-19?
In the U.S., COVID-19 can only be confirmed with a laboratory test. Outside of the U.S., sometimes COVID-19 is diagnosed based on symptoms only. If you've been diagnosed with COVID-19, you should follow your healthcare provider's instructions very closely, avoid public places and wear a mask if you have to be around other people. Those caring directly for you should wear masks when they are with you as well. You will need to practice self-isolation.
What is self-isolation?
If you are told to self-isolate or self-quarantine, you must stay in your home, preferably in a room away from the rest of your household members, wear a mask if you go out to the doctor's office and avoid visitors. Anyone coming into your room should also wear a mask. You should continue to follow everyday illness prevention practices, include washing your hands often, covering coughs and sneezes and disinfecting your home environment.
What is social distancing?
Social distancing is intentionally increasing the physical space between people (at least six feet), as well as minimizing social contact, to avoid spreading illness. Examples include avoiding crowds, working from home instead of going into the office and visiting with loved ones via electronic device instead of in person.
Why is social distancing recommended?
In general, the larger the gathering, the more opportunities there are for person-to-person contact and therefore greater risk of spreading COVID-19 virus. A COVID-19 outbreak could last a long time in your community. Depending on the severity of the outbreak, public health officials may recommend specific actions, such as closing schools and public locations, in order to help keep people healthy, reduce exposures to COVID-19 and slow the spread of the disease. These mitigation strategies are particularly important in order to slow the transmission of disease in order to protect:
Individuals at increased risk of severe illness, including older adults and persons of any age with underlying health conditions
Healthcare and critical infrastructure workforces
Do I need to cover my face in public?
Yes. According to the latest guidelines from the CDC, everyone should wear a cloth face covering when going out in public—for example, to the grocery store or to pick up other necessities. Cloth face coverings over your mouth and nose are meant to protect other people in case you are infected but do not have symptoms. A cloth face covering is not a substitute for social distancing. Continue to keep about six feet between yourself and others.
What steps is Walgreens taking to support customers during the pandemic?
Walgreens is taking a number of steps in its stores and pharmacies across the U.S., as well as introducing additional services to help support customers and patients during this evolving situation. This includes waiving delivery fees for all eligible prescriptions and collaborating with health plan partners, physicians and state officials to ensure that patients have access to the medications they need through services like 90-Day Refills and early refill authorizations. Customers can also take advantage of services such as Pharmacy Chat, a secure online platform available 24/7 online and through the Walgreens App, as well as the pharmacy drive-thru for customers looking for alternative ways to access their medications.
Are you offering additional products for purchase at the pharmacy drive-thru?
Yes. As communities across the country practice social distancing to fight the spread of COVID-19, we're making additional select products available at the pharmacy drive-thru.† Here's how it works: Go to orderpickup.walgreens.com/home on your mobile device or computer, enter your ZIP code and select a drive-thru location. Choose from select items, including household goods, cough/cold and pain relief, grocery items, baby formula and medical supplies. Place your order and we'll email you when it's ready to be picked up at the drive-thru. Please note that products are subject to availability and quantities may be limited. Get started ›
In the event of a discrepancy between the information on Walgreens.com and the CDC website, please follow CDC's guidance.
---
Resources
Recommended Products
† Website pricing and in-store pricing may vary. Final order total at curbside or drive-thru pickup will reflect any order adjustments and any applicable bag fees. Products are subject to availability and purchase quantity restrictions apply. Drive-thru pickup not available in Connecticut.

Beginning of the content
Please wait while we are connecting.
End of the content
Beginning of the content
DISCLAIMER AND ACKNOWLEDGEMENT
The information contained in this application is not intended nor implied to be a substitute for professional medical advice, it is provided for educational purposes only. This application is not a pharmacy offering or health care service. Your responses will not be reviewed by a pharmacist and will not be part of your health record. Walgreens is connecting you to resources that may be of interest to you based on the information that you provide. You assume full responsibility for how you choose to use this information.
In your use of this application, we may collect any information that you voluntarily share with us. Your use of this service is governed by the terms of the Walgreens Online Privacy and Security Policy and the Walgreens.com Terms of Use.
Always seek the advice of your physician or other qualified healthcare provider before starting any new treatment or stopping an existing treatment. Talk with your healthcare provider about any questions you may have regarding a medical condition. Nothing contained in this application is intended to be used for medical diagnosis or treatment.
• Not a Substitute - The information should not be used as a substitute for the care and knowledge that your doctor can provide to you.
• Supplement - The information in this software are meant to supplement the information that you obtain from your doctor. If there is a disagreement between the information presented here and what your doctor has told you -- it is more likely that your physician is correct. He or she has the benefit of knowing your medical problems.
• Limitations - You should recognize that the information in this software has the following limitations, in comparison to being examined by your own doctor:
You can talk with your doctor.
Your doctor can examine you and do any needed tests.
You may have a hidden serious medical problem that only a doctor can find and diagnose.
If you are taking medicines, they could affect how you experience various symptoms.
If you think that you are having a medical emergency, call 911 or the number for the local emergency ambulance service NOW!
And when in doubt, call your doctor NOW or go to the closest emergency department.
The content in this application is provided "as is" without warranty of any kind, either express or implied, including without limitation any implied warranties of condition, uninterrupted use, merchantability, fitness for a particular purpose, or non-infringement.
The content in this software has been reviewed and tested, but it is not, and cannot be, perfect. No natural language processing system or software can correctly interpret all words, phrases, or utterances that a person can speak or write. The acuity rating (Call/Concept Prioritization Index) is an estimate of complaint severity and does not replace the judgment of a doctor and a complete clinical evaluation. The clinical documentation support and clinical decision support are general guidelines that are not intended to establish a standard of care. The diagnosis engine cannot provide a definitive medical diagnosis and listed causes are provided only for educational purposes. The triage engine is not and cannot be perfect in providing recommendations for the best level of care needed for a person with symptoms. Use of the application is benefitted by the intellect, judgment, and input from a physician, physician assistant, or nurse practitioner. The user bears all risks associated with the quality and the performance of the content.
The Licensor and any authors, reviewers, or contributors involved in the development of the content shall not be liable for any harmful consequence, loss, injury, or damage associated with the use and application of the content. The user assumes all responsibility associated with using the content and for acts or omissions arising out of the use or misuse of the content.
End of the content