Price and inventory may vary from online to in store.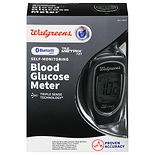 Walgreens TrueMetrix Bluetooth Blood Glucose Meter (1 ea)
Glucose monitors
Regularly testing your blood glucose can be highly beneficial for managing diabetes and helping to prevent future health complications. You can find glucose monitors from brands Bayer, FreeStyle, One Touch and more among our assortment of diabetes supplies. These helpful glucose monitor systems can assist you daily in keeping tabs on your blood glucose levels. You can choose between different sizes and features, such as glucose monitors that keep track of up to 90-day averages or others that don't require coding.
Preventive care
You can avoid extremely low or high blood sugar levels by checking your glucose levels with a glucose monitor. Whether you test several times a day or just once, you can stay stocked with glucose test strips that work with your particular monitor, as well as diabetic lancets. Choose from glucose monitors that allow you to test at multiple sites or others that can help you record your levels over long periods of time.
Staying comfortable and healthy
You can take your supplies with you on vacation or elsewhere with organized travel cases. For daily satisfaction of hunger and cravings, choose diabetic nutrition supplements that can help your sugar levels stay balanced. Choose from diabetes shakes, cereals, snack bars and sugar free fiber supplements. You can also get daily nourishment from diabetes health packs and vitamins for overall health. There's even relief for your feet in the form of diabetic socks and foot care products such as diabetic foot creams that can help promote healthy circulation.