Price and inventory may vary from online to in store.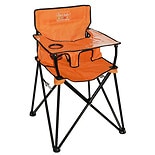 Jamberly Group ciao! baby go-anywhere-highchair Orange (1 ea)
Not sold in stores
Out of stock online
Highchairs
Highchairs provide a convenient way to keep your baby or toddler safe and secure while eating. These chairs are a must-have baby accessory for many new parents and are sometimes given as a baby shower gift. Graco is one of the largest manufacturers of highchairs and baby gear.
Choosing a highchair
The vast array of highchair styles makes choosing one seem complicated, but finding the right highchair for your child doesn't have to be difficult. Many highchairs are part of a larger collection of baby accessories, so you might want to coordinate your child's highchair with things like a baby swing, stroller, or infant car seat. Some versions can convert into a booster seat as your child ages and outgrows his or her regular highchair. Others feature the ability to adjust the height of the chair as your child grows. When choosing a highchair, you should also check the harness or seat belt to ensure that it can keep your child well contained.
Using highchairs
Most parents start using a highchair when their baby is capable of sitting up on his or her own. Many children continue to use their highchairs well into toddlerhood. A highchair can be used to feed your child pureed baby food as well as when the child begins to eat whole finger foods. Using the highchair makes it easier to clean up any messes as well because these chairs typically feature a removable tray that can easily be cleaned whenever necessary. Some highchairs can be folded for storage when not in use.