Financial Assistance Coordination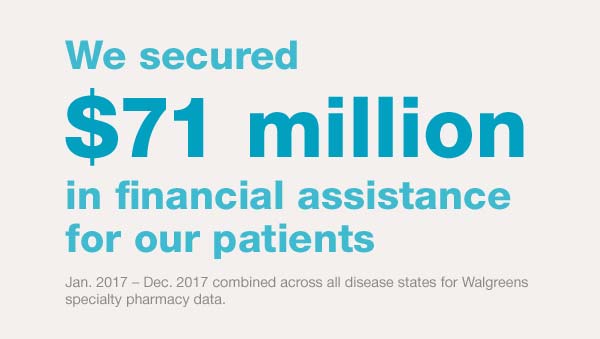 "We have a history of transforming frustration and fear into relief with answers and solutions for the whole patient, beyond chemotherapy."
Jennifer, Walgreens Specialty Pharmacy Care Team member
Contact us 24/7: 888-782-8443
Hearing Impaired (TTY) 866-830-4366
Financial support coordination from the Walgreens Specialty Pharmacy Care Team
The Walgreens Specialty Pharmacy Care Team can help you find ways to make your specialty medication more affordable. We do everything we can to match you with manufacturer, copay and discount programs that may help cover the cost of medications not covered by insurance, or help with co-payments that may still be too much to afford.
When you call the Walgreens Specialty Pharmacy Care Team, we can:
Discuss your financial needs
Identify programs you may be eligible for
Coordinate your application for assistance
How to get financial assistance
The financial assistance you need is only a few steps away:
Call 888-782-8443 to speak with a specialist about your prescriptions and financial needs
Answer questions to determine your eligibility
If we find a program to match your needs, you will be enrolled by the specialist or provided a website/phone number to self-enroll
The Care Team will follow up and contact you when you are approved for financial assistance
The Walgreens Specialty Pharmacy Care Team will notify you if additional information is needed to gain assistance, or if you need to supply supporting documentation or tax forms.
Learn more about Walgreens financial assistance and eligibility in our comprehensive patient FAQ
Expertise to help you save money
A recent patient was in sticker shock from the cost of a new cancer medication. Fortunately, Walgreens Specialty Pharmacy Care Team member, Araceli Martinez identified a nonprofit foundation that offered funds to help pay for the medication based on the patient's diagnosis. The patient's monthly copay went from $2,846 to $10. These results aren't typical, but the attention to detail and care Araceli and all Walgreens Specialty Pharmacy Care Team members give our patients is.