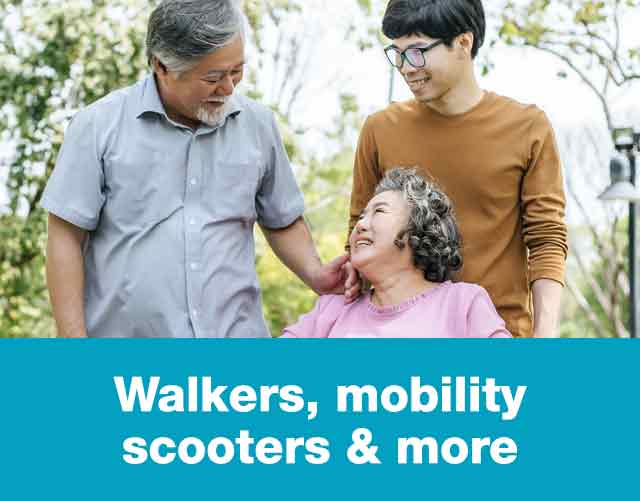 Did you know?
Incontinence is a common problem, but that doesn't make it any less embarrassing. Since there are many potential causes for incontinence, it's important to talk to your doctor about your symptoms. Once you know what type of incontinence you have, there are products available to help you deal with accidents and feel comfortable and confident at home and on the go. Learn more about types of incontinence and the products available to help you manage them.
Can I use feminine hygiene products for incontinence?
While they may look similar, menstrual pads won't offer as much protection and comfort as incontinence pads, which are specifically designed to absorb the fast flow of urine leakage.
What type of protection is right for you?
Look for the absorbency information on the label to make sure the protection fits your needs.
Light

When small drips occur after a laugh, cough or jump, look for light protection. Liners and light pads offer better protection for lighter leaks.

Shop now

light protection

Moderate

If leakage is more stream-like, try moderate absorbency. Moderate pads and incontinence underwear provide ideal protection for moderate streams.

Shop now

moderate protection

Heavy or overnight

Maximum absorbency products help with full bladder leaks and surges, or overnight protection. The most absorbent pads or incontinence underwear are ideal.

Shop now

heavy or overnight protection
Which additional products are right for caregiving?
Are you a caregiver?
We have resources to help you provide better care for your loved one.
Get support ›
<!--Id is null-->
What Is Incontinence?
Urinary incontinence refers to difficulty controlling urination. It is also sometimes referred to as bladder incontinence.
Types of Incontinence
Stress incontinence
With stress incontinence, urine leaks when pressure is applied to the bladder. People with the condition may experience accidents when they laugh, cough or jump. Women often develop this problem when they age due to the natural weakening of the pelvic floor muscles or due to stretching of these muscles from childbirth. In men, stress incontinence is often due to pelvic fractures or damage that occurs during prostate surgery.
Urgency incontinence
Urgency incontinence or overactive bladder is marked by a feeling that you need to urinate even when your bladder isn't full. The problem is common among both men and women and occurs due to over contraction of the muscles in the bladder.
Overflow incontinence
Overflow incontinence is the most common type of male incontinence and usually relates to prostate problems. This form of incontinence occurs when something obstructs the flow of urine out of the bladder, causing it to overflow. Although it is less common, women can also develop overflow incontinence due to bladder stones and nerve damage.
Reflex incontinence
Reflex incontinence is a less common problem that usually stems from severe nerve damage. With this type of incontinence, the bladder suddenly contracts without warning, causing urine to leak.
Functional incontinence
Functional incontinence is a form of incontinence not caused by problems with the urinary system. People who have accidents due to difficulty getting to the bathroom in time due to limited mobility have functional incontinence. In addition, functional incontinence can be caused by certain medications and can affect those with mental health problems such as dementia.
Types of incontinence products
Many women turn to feminine care products for urine leaks. However, there are pads and liners designed specifically to neutralize odor associated with urine. Pads and liners for incontinence also offer better protection against wetness and leaks. Both types of incontinence products have absorbent fabric on one side and adhesive on the other. You simply stick the pad or liner to your undergarments and then change it after an accident. Liners are thin and offer minimal absorbency, making them best for mild stress urinary incontinence. Incontinence pads come in a number of absorbency levels and can be used for many types of incontinence.
Protective Underwear and Briefs
Like pads and liners, protective underwear and briefs help people with incontinence manage accidents; however, these products are worn in place of ordinary undergarments. Today's protective underwear is far superior to "adult diapers" from the past and is designed with flexible materials to move with the body to help reduce leaks during everyday activity as well as sports. The materials within the protective underwear draw moisture into the core, neutralizing odors and keeping the skin dry. Most underwear and briefs pull on like conventional undergarments for men and women but also have tabs at the sides to make them easy to remove. You can find protective underwear and briefs in a number of absorbency levels to meet your needs. Be sure to select the right size as proper fit is vital to preventing leaks. Every brand has its own standards for absorbency and sizing. Read the product descriptions carefully.
Cleansing after accidents is an important part of incontinence care, as urine can irritate the skin. Cloths and wipes make it simple to thoroughly cleanse. Both types of incontinence supplies are pre-moistened for convenience and are thrown away after use. Wipes are thinner and more similar to baby wipes, while cloths are made from heavier fabric and feel more like washcloths.
Incontinence skin care products like cleansers, creams and lotions are beneficial for individuals who suffer from moderate to severe incontinence. Cleansers can be used with a conventional washcloth to remove impurities from the skin. Creams and lotions for incontinence are designed for use after cleansing and contain ingredients that soothe, moisturize and protect the skin. Using a cream or lotion can promote healing and reduce the risk of future irritation.
Bedpans and urinals are typically used by people with functional incontinence who are unable to get to the bathroom quickly. Both types of products are containers that are designed to capture and hold urination. After use, a caregiver can empty the bedpan or urinal into the toilet for quick cleanup.
Accidents often happen at night and in some cases, protective underwear isn't sufficient. Underpads are available to help bedding stay dry and protect mattresses from damage. Some underpads are disposable while others are reusable and can be machine washed and dried following an accident.
Kegel Exercisers
Kegel exercisers can be beneficial for women who suffer from stress urinary incontinence. These products are used to perform Kegel exercises, repeated clenching of the pelvic floor muscles. Using Kegel exercisers regularly may promote stronger muscles, lowering the likelihood of urine leakage.
With Walgreens online shopping and home delivery, incontinence supplies can be easily purchased. Orders are packaged discreetly to protect your privacy.
What can I do at home?
Five tips to help improve your symptoms:
1. Drink lots of water
Aim to drink between 1.5 and 2 liters (about 3 pints) at regular intervals throughout the day. Reducing your fluid intake won't necessarily reduce the amount of urine you pass. In fact, if you drink less, your urine becomes more concentrated, which can irritate the lining of the bladder and make you feel like you need to go more often.
2. Cut back on caffeine and alcohol
Caffeinated fluids such as tea, coffee and fizzy drinks will irritate the bladder. Better choices include water and diluted drinks.
3. Maintain a healthy lifestyle
Keeping active, eating a healthy balanced diet and quitting smoking will all help reduce the amount of pressure you put on your bladder. If you do all of these things, it can help improve the health of your bladder.
4. Do your pelvic floor exercises
These exercises are a great way to strengthen the pelvic floor muscles that support your bladder and can help you regain control. There are lots of sources of advice on pelvic floor exercises, from apps and websites to specialist continence nurses and women's physiotherapists.
5. Choose the right product for you
There are a number of different products out there that offer different levels of protection, and it is important to select the right product that suits your individual needs. If you need help choosing the right product for you, ask your Walgreens pharmacist or get expert advice 24/7 with Pharmacy Chat.